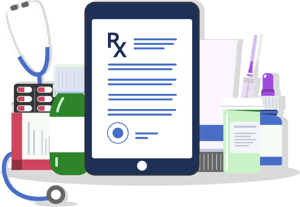 1. Telepharmacy Overview
For the success of any telepharmacy program, it's important that your patients clearly understand what it encompasses and the value and scope of telepharmacy services. Having this understanding helps to yield the kind of patient engagement that's necessary for achieving desired benefits and outcomes. Let's start by exploring the various ways telepharmacy can be defined.
The National Association of Boards of Pharmacy's Model Pharmacy Practice Act defines telepharmacy as
"… the provision of pharmacist care by registered pharmacies and pharmacists located within U.S. jurisdictions through the use of telecommunications or other technologies to patients or their agents at distances that are located within U.S. jurisdictions."
However, there is much more for patients to understand if they are to truly grasp the value and advantages of telepharmacy.
Still, other definitions can expand on this original one. In its statement on telepharmacy, the American Society of Health-System Pharmacists (ASHP) references the Model Act's definition but then goes on to provide its own definition for the purposes of the statement document: "… ASHP defines telepharmacy as a method used in pharmacy practice in which a pharmacist utilizes telecommunications technology to oversee aspects of pharmacy operations or provide patient care services."
An article in Pharmacy Times that defines telepharmacy includes an important caveat about broad definitions of telepharmacy when it states the following:
"Practically speaking, telepharmacy can be defined as the provision of pharmacy services through telecommunication. However, state laws usually define telepharmacy more narrowly, based on pharmacy practice in the states."
As you can see, the definitions are similar, yet they incorporate slightly different angles. With varying definitions at work, it's a good idea to plan how you will define telepharmacy to your patients.

Defining Telepharmacy to Patients
When communicating with your patients, we recommend taking a straightforward approach to the definition. For example, you could definite telepharmacy as follows: "Telepharmacy is the use of technology to deliver pharmacy services to patients located at a distance." Some of these services can include comprehensive medication management (CMM), comprehensive medication reviews (CMRs), disease-specific CMM and counseling, and all other medication-related assessments and interventions.
Understanding the delivery of telepharmacy is essential for patients to comprehend the full scope of services. Pharmacists use telecommunications to deliver services; however, the type of telecommunications used can vary from program to program.
It's important to define the types of technology your practice employs —particularly important if you intend to use technology other than a phone. While patients are generally comfortable speaking on a telephone, they may need to be educated about other audio and video platforms, such as Skype for Business, Microsoft Teams, Zoom for Healthcare, GoToMeeting, and Amazon Chime. In some cases, you'll need to provide instructions to patients for installation for solutions to ensure the process runs smoothly.
Be sure to also communicate and define the many services that your pharmacists can deliver through telepharmacy, such as:
Drug review and monitoring

Drug information

Medication dispensing

Medication therapy management

Patient assessment and counseling

Compounding medication verification

Decision support
All of this communication goes a long way toward building rapport with your patients.

Building Patient Trust
Patients who are unfamiliar with telepharmacy or have yet to personally participate in a telepharmacy session may have doubts about whether a telepharmacy experience can match that of an in-person experience.

Creating patient trust is an important part of achieving success with your program. When defining telepharmacy, make it clear to patients that your telepharmacy services are provided by registered pharmacists who possess similar training, experience, and knowledge of the professionals they have learned to trust during in-person visits to pharmacies. Consider including photos, bios, and even videos of those pharmacists who will be providing telepharmacy services to create a personal connection between patients and telepharmacists.
Another way to engender patient trust is to highlight the value that can be gained from their participation in telepharmacy. Communicate the fact that pharmacists working in a brick-and-mortar pharmacy only have insights into the prescriptions filled at that pharmacy/chain, which can lead to blind spots in a patient's medication regimen. In contrast, telepharmacists, specifically those leveraging Cureatr's Meds 360°, access a complete view of a patient's medications, irrespective of the filling pharmacy. This information greatly helps a pharmacist optimize a patient's medication regimen and avoid potential adverse events caused by said blind spots.
To round out patient education, it's wise to give your patients some context of how telepharmacy has evolved over the years.

Telepharmacy Today
To better understand where we are today with telepharmacy, it's wise to take a look back at the history and assess where it stands today.

History of Telepharmacy
Did you know that telepharmacy began to take shape as early as 2000? That year the North Dakota State Board of Pharmacy reported that 26 of the state's rural communities had lost their community pharmacies and more were at risk. In response, the board established pilot rules for telepharmacy in 2001 in the hopes that the virtual service could help the state's medically underserved remote rural communities restore and retain pharmacy services.
The following year, the North Dakota State University (NDSU) College of Pharmacy received a federal grant to implement a statewide telepharmacy program and test the new telepharmacy pilot rules. The pilot project proved successful, prompting the state's board of pharmacy to establish permanent rules allowing telepharmacy to be practiced on a broader scale. As NDSU notes,
"These permanent rules allow a retail pharmacy to open and operate in certain remote rural areas of the state without a licensed pharmacist being physically present in the store and allows a pharmacist to supervise a registered pharmacy technician at a remote telepharmacy site using telepharmacy technology for the purposes of dispensing prescriptions to patients, providing drug utilization review, and patient education counseling."
The study concluded in 2008, NDSU states, with the pharmaceutical industry recognizing that telepharmacy was a safe and effective method for delivering pharmacy services in areas lacking a full-time pharmacist.
This conclusion promoted other states to change or revise their laws to permit telepharmacy, but not all states embraced telepharmacy at that time. In fact, 16 states — or about one in three — did not authorize the use of any telepharmacy or the pursuit of telepharmacy initiatives.
Fast-forward to 2019 and that number had shrunk significantly. Drug Topics reported early in the year that 45 states allowed telepharmacy, but with rules and requirements for operation continuing to vary widely. The future for telepharmacy growth looked "bright," the publication stated. By January 2019 article in The National Law Review noted, "Telepharmacy, while not necessarily a new concept, is beginning to gain more attention in the healthcare industry as a tool to improve patient care and coordination of pharmacy patient care and medication adherence."
And then, of course, COVID-19 hit.

Present Use of Telepharmacy
Though the use of telepharmacy was already on the upswing before 2020, the pandemic certainly punctuated its usefulness. The federal government quickly championed telepharmacy as a way for pharmacists and patients alike to minimize their risk of exposure to the novel coronavirus. As the Centers for Disease Control and Prevention's "Guidance for Pharmacists and Pharmacy Technicians in Community Pharmacies during the COVID-19 Response" online resource notes,
"Pharmacists who are providing patients with chronic disease management services, medication management services, and other services that do not require face-to-face encounters should make every effort to use telephone, telehealth, or telepharmacy strategies."
To further support telehealth, the U.S. Department of Health and Human Services approved the Coronavirus Preparedness and Response Supplemental Appropriations Act, which removed many of the coverage, licensing laws, and reimbursement barriers that were stifling telehealth. The federal government also helped fund the "COVID-19 Telehealth Toolkit," designed to help organizations implement telehealth during the crisis.
Many states have issued their own public health emergencies that changed Medicaid, private payer, and licensure rules for telehealth as well insurance companies that have made adjustments to telehealth coverage. With this momentum, patients are also getting on board.
A survey of Medicare-eligible seniors by healthinsurance.com found that prior to COVID-19, only about 1 in 10 had used telemedicine. During the pandemic, 44% have used telemedicine, and about the same percentage say they intend on using it after the crisis is over. That's a 340% increase in telemedicine usage among Medicare recipients since the start of health crisis.
While much of the news has focused primarily on usage of the broader concepts of telehealth and telemedicine, telepharmacy has received its own share of attention. In an article in Pharmacy Today, Dr. Sandra Leal, president-elect of the American Pharmacists Association (APhA), states,
"Pharmacists are a great resource for patients who have questions about drug interactions, vaccines, and testing. Telepharmacy allows those conversations to happen in a safer way, with patients located in the comfort of their home, keeping the public and pharmacists safe."
An article from the American Pharmacists Association (APhA) notes, "Just like telemedicine has been essential during the COVID-19 crisis, the same can be said for telepharmacy."
Patients are increasingly seeking telepharmacy services, which is one of the reasons why we just recently announced that Cureatr was expanding our COVID-19 response program by offering complimentary, virtual medication (i.e., telepharmacy) reviews to primary care practices.
The good news is that telepharmacy has seen increased adoption by organizations, embracing by patients, and greater support on the federal, state, and private payer levels.
Unfortunately, as we previously wrote, federal COVID-19 legislation has yet to grant national provider status to pharmacists. This, we said, constrained their abilities to help in the front-line response to the pandemic. Provider status would add undeniable value during the health crisis, one which concerned delivering telepharmacy services.
We strongly believe telepharmacy's "time is now," but view the lack of provider status as a lingering and substantial barrier to unleashing the potential for telepharmacy to make a significant difference in the fight against COVID-19 and achieving larger improvements in the way we deliver and coordinate care.

Grasping the Value of Telepharmacy: Patient Outcomes
To realize the best future for telepharmacy services, the present and potential value for patients and providers must be examined. Let's review six ways telepharmacy is currently adding value for patients in our healthcare delivery system.