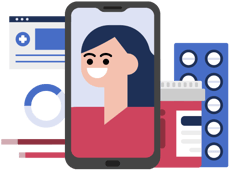 1. Telehealth, Telemedicine, mHealth:
What are they and how are they different?
Defining the Terms
When it comes to understanding telehealth and its various services and subsets, it's key to first make sure you have a firm grasp of the definitions of relevant terms. There's a lot of confusion surrounding them, so let's take a look at the definitions that matter most.
Telehealth is a broad term used to describe the delivery of healthcare services using telecommunications technologies. The American Telemedicine Association, Federation of State Medical Boards, Centers for Medicare & Medicaid Services (CMS), and individual states all have varying definitions, many of which take into consideration coverage and reimbursement specifics. But generally speaking, telehealth is a way of delivering care that enables providers to treat or counsel patients without the two having to be in the same location.
Telehealth services are delivered using a number of platforms and devices, and they can be performed in several ways:
Real-Time
Synchronous, often using live video
Store-and-Forward
Asynchronous, through the transmission of information using an electronic communications system
Remote Monitoring
Collecting a patient's clinical indicators and data using an implanted or manual reporting technology and responding or acting on the data
Within the broad category of telehealth there are many subsets, including the following:
Telemedicine
The remote delivery of medical services by a physician or non-physician provider
Telepharmacy
The remote delivery of medication counseling or management by a pharmacist or pharmacy technician
Telehealth can be performed in a variety of different location types — from a patient's home or workplace to a rural hospital or school. And the number of services that can be delivered via telehealth is fairly extensive and includes treating minor colds, managing chronic diseases, post-operative care, and medication management, just to name a few.

Important Distinction: Telemedicine Vs. Telehealth
A common mistake is to use the terms "telemedicine" and "telehealth" interchangeably. Even though they are alike in many ways, there are noteworthy distinctions. Clinicians must understand these so they can effectively address how telemedicine and telehealth can play a role in improving patient care.
The Federal Communications Commission (FCC) defines telemedicine as "… using telecommunications technologies to support the delivery of all kinds of medical, diagnostic, and treatment-related services, usually by doctors." The American Academy of Family Physicians (AAFP) defines telemedicine as "… the practice of medicine using technology to deliver care at a distance."
The FCC states that telehealth is similar to telemedicine but "… includes a wider variety of remote healthcare services beyond the doctor-patient relationship." AAFP states telehealth "… refers broadly to electronic and telecommunications technologies and services used to provide care and services at-a-distance."
Let's look at examples of the two to further delineate:
Telemedicine

A 2018 American Medical Association survey showed that radiology has the highest use of telemedicine for patient interactions than any other medical specialty, reports Health Imaging. A Health Progress article describes "teleradiology" as follows: "… a CT is sent securely over the Internet, a report is generated, and the treating physician gets a message. During a standard telemedicine encounter, a remote physician is notified that a patient is in the queue. The physician then reviews patient information from the electronic medical record, visits with the patient over phone or video, documents his or her findings, and communicates recommendations to the requesting physician. Except for minor differences based on specialty and video availability, the infrastructure is the same."
Telehealth

Telehealth nursing is another function that's expanding, according to a Nursing2019 article. The article notes that telehealth nursing is a "… tool for delivering nursing care remotely to improve efficiency and patient access to healthcare." Telehealth nursing services include the ability to "… guide patients to emergency department visits, clarify appropriate treatment options, educate about self-care at home, and assist with appointment scheduling."
For additional examples, you can read about them here.
According to AAFP: "Telehealth is different from telemedicine in that it refers to a broader scope of remote healthcare services than telemedicine. Telemedicine refers specifically to remote clinical services, while telehealth can refer to remote non-clinical services." CCHP further elaborates: "Telemedicine is often still used when referring to traditional clinical diagnosis and monitoring that is delivered by technology. However, the term telehealth is now more commonly used as it describes the wide range of diagnosis and management, education, and other related healthcare fields."
In sum, telehealth is broader than telemedicine, while telemedicine refers exclusively to clinical services. To understand more, it helps to examine different delivery models of telemedicine.

Two Forms of Telemedicine
Keep in mind that there are two main options for delivering telemedicine: synchronous and asynchronous. It's crucial to grasp how these forms of telemedicine differ to achieve the goals of your telemedicine program.
The Office of the National Coordinator for Health Information Technology (ONC) defines synchronous telemedicine as "live video-conferencing," which is a "two-way audiovisual link between a patient and a care provider." A Healthcare Informatics Research (HIR) article states, "The major advantage of a synchronous approach is the efficiencies gained by having the opportunity to refine details pertinent to the care episode during the session, by seeking additional information or data, and in many cases providing a clinical decision or advice within the session." Other advantages include timely care, the preservation of the face-to-face doctor patient relationship, convenience, and access. Additionally, The Online Journal of Issues in Nursing states that:
"Synchronous visits enable assessment, diagnosis, and treatment in hospital or clinic settings, and facilitate nurse-to patient-education."
"Critical access hospitals with limited resources can benefit from prompt, synchronous consultation by a neurologist, in the event a stroke is clinically suspected, and timely treatment with thrombolysis is critical."
In contrast, asynchronous telemedicine does not occur on a "live basis." ONC defines it as "store-and-forward video-conferencing," which is the "transmission of a recorded health history to a health practitioner, usually a specialist." In other words, synchronous systems "… decouple the components of the interaction so that they can occur at different times at the convenience of the participating parties," according to the HIR article.
CCHP shares several asynchronous telemedicine benefits, including the following:
"Patients can get timely specialty care without needing to travel beyond the location of their primary care providers.""
Wait times for specialty care are lessened, especially in areas with shortages of medical specialists."
"The store-and-forward process can overcome language and cultural barriers."
Additionally, an mHealth Intelligence article notes, "… proponents of store-and-forward technology say the platform is ideal for evidence-based care in which providers are able to gather all the information on a patient, analyze that data, match it to evidence-based care, and make a diagnosis. While perhaps not suitable for emergency care, it gives providers the leeway to add clinical decision support to the process and eliminates the sometimes-inconvenient requirement of having both patient and doctor available at the same time."
Regardless of which option is chosen, organizations must consider how to make their delivery systems effective.

How Telemedicine Works
Let's suppose you are ready to implement a telemedicine program. One of your biggest considerations will be how to do so. The two most common ways to deliver a telemedicine visit are live video conferencing and remote patient monitoring.
Live video visits involve a patient and a physician or non-physician provider having a HIPAA-compliant conversation via video conference software on a computer screen or mobile device. For a better understanding of how this works, watch this two and a half minute video from Johns Hopkins that shows how physician-patient video visits work in that organization, who is involved, and the value they bring for patients and physicians.
Prior to offering video visits, organizations routinely ask patients to sign a consent form and book the video visits in the same appointment schedule used for in-person visits. Most providers block time for video visits so they are not shuffling back and forth from their laptop to the exam room.
Another consideration is the placement of equipment. Specialists who use connected devices, such as a digital spirometer or otoscope, to conduct virtual exams often dedicate a room for their telemedicine visits, so the equipment stays in one place.
The array of technology platforms that can be used to conduct video visits is vast, and so are the features they offer. Some platform vendors offer only the software, which can be purchased as a subscription or via license fee. Other vendors offer their platform plus a service option. For instance, if a primary care group wants around-the-clock telemedicine visit coverage, it can contract with the telemedicine technology company's clinical team, which is available to the practice's patients after regular clinic hours.
When evaluating your options, ensure the provider's documentation meets the same criteria as an in-person visit and that it makes its way back into the medical record. It's best if a telemedicine module is integrated with an organization's electronic health record (EHR), but that does not always need to be the case.
In addition to examining your method of delivery, it pays (literally) to consider reimbursement requirements as you design your program.

Getting Paid for Telemedicine
Reimbursement for telehealth and telemedicine visits is not uniform. It can differ drastically according to state and payor. Most commercial payors reimburse for these visits, but the rules vary from one payor to the next, so it's imperative that coding, billing, and business office teams know the details for their specific payors. The best counsel for any physician organization considering telemedicine visits is to be on top of billing and payor rules before scheduling the first patient. A firm grasp of the coverage rules will allow you to know how to bill the visits to payors and anticipate the portion you should appropriately collect from patients.
Over the last few years, dozens of states have introduced hundreds of telemedicine bills. Even if your state does not have a parity law today, it may in the near future. Research your state's Medicaid rules as well. Although nearly all Medicaid programs reimburse for telehealth, what is covered varies state to state.

The Role of mHealth
While there is no standardized definition for mHealth, we can gain a better understanding of the term and what it encompasses by looking at some widely cited and recognized definitions. The book "M-health: Emerging Mobile Health Systems" defines mHealth as an "emerging mobile communications and network technologies for healthcare systems."
Remote patient monitoring is a subcategory of home care and telehealth that enables patients to use mobile devices and mobile health technology to gather, enter, or automatically collect health data and transmit it to healthcare providers. The ability to track patient conditions in between visits, and notify a clinician or care manager when the patient's biological data is putting the patient at risk, is a giant improvement in managing care. Without mobile devices and mobile health technology, like wearable devices such as watches, fitness trackers, and wristbands, continuous tracking and monitoring of such data would not even be possible — and certainly be inconvenient.
Remote patient monitoring is one example of mHealth. Scientist and professor Robert Istepanian is credited with having coined and defined the concept of "mHealth" (i.e., mobile health) in 2003. Just eight years later, in her speech at the mHealth Summit, Kathleen Sebelius, U.S. Health and Human Services secretary at the time, said, "When we talk about mobile health, we are talking about taking the biggest technology breakthrough of our time … And while we have a way to go, we can already imagine a remarkable future in which control over your health is always within hand's reach."
The Global Observatory for eHealth of the World Health Organization defines mHealth as
"medical and public health practice supported by mobile devices, such as mobile phones, patient monitoring devices, personal digital assistants, and other wireless devices."
Here are some other examples of mHealth technology and how they aim to enhance the delivery of patient care:
Point-of-Care Diagnostics
As a National Institute of Health (NIH) fact sheet notes, point-of-care diagnostic testing
"… allows patient diagnoses in the physician's office, an ambulance, the home, the field, or in the hospital. The results of care are timely and allow rapid treatment to the patient."
Medication Management
An example of mHealth starting to gain significant traction in its adoption is mobile medication management, discussed in more detail in Chapter 4.
Medical Imaging
An emerging application for mHealth, this is in the promising field of medical imaging. As smartphone technology has seen significant improvements in recent years (e.g., image quality, camera capabilities, speed, data transfer), companies can use these more powerful devices to transform imaging.
With all of these opportunities for application, it's easy to grasp why mHealth and telehealth are on the rise, but what else is driving the adoption rates up? Let's examine the factors that play a role.

Understanding the Uptick
The increase in the use of telehealth by healthcare systems and provider organizations over the last several years — and dramatic surge that occurred in 2020 — can be traced to the fusion of six key forces, which we will explore in depth throughout this guide: